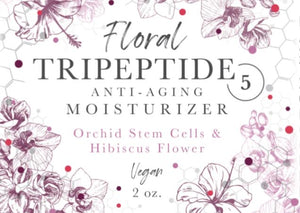 Membrane Plant Cell
Floral TriPeptides & Anti Aging Moisturizer
Regular price
$57.50
$0.00
Unit price
per
Floral TriPeptide cream is a daytime or night time moisturizer, fantastic before makeup applications.
Outstanding plant stem cells obtained from a Japanese orchid flower (Calanthe Discolor) have been shown in numerous scientific studies to induce several growth factors and stimulate the production of tissue proteins (collagen, elastin), the most critical to the prevention of the signs of aging. 
Highly bioactive with the natural ability to deeply penetrate, this tripeptide cream has been shown to activate the tissue growth factor (TGF-beta). TGF-beta has been proven to stimulate collagen synthesis in the skin. In addition, skin elasticity is increased by its ability to inhibit the activity of the enzyme elastase which is responsible for breaking down our skin's much needed elastin protein.
Hibiscus flower (known affectionately as the Botox plant) has moisturizing and anti-aging properties due to the presence of citric and malic acids which accelerate cellular turnover and lead to more even skin tone. Rich in antioxidants and anthocyanocides, both proven to help fight skin damaging free radicals, this luxurious cream has a mild astringent property while also acting as an anti-inflammatory compound suitable for even the most sensitive skin types.

Tripeptide5 is from amino acids with a unique sequence to mimic the human body's own mechanism to produce collagen via TGF-beta.

Benefits:

In-vitro tests showed that tripeptide has better collagen building capacity than TGF-beta

Has been found to significantly improve the appearance of fine and deep lines

Excellent skin firming and moisturizing properties

May be able to reduce appearance of stretch marks. In clinical study with 60 volunteers a significant reduction of the appearance of wrinkles was shown after 84 days of use

NOT TESTED ON ANIMALS

GMO Free
---