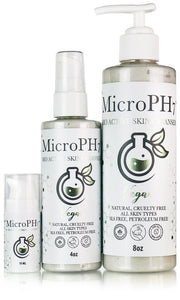 Membrane Plant Cell
Micro PH7 Cleanser
Regular price
$34.00
$0.00
Unit price
per
* The mini and 8 oz sizes aren't available at the moment.  You can order more than one of the 4oz for a big savings!
A truly incredible skin cleanser!  I've had so many people message me and tell me how incredible this cleanser is, clearing up problem skin when no other product can!
MicroPh7 is a creamy skin cleanser with a rich, velvety texture that removes makeup, environmental pollutants, bacteria, and excess sebum.  
Will not strip skin of its natural moisture, MicroPh7 is neutral Ph-balanced and suitable for every skin type.  MicroPh7 is particularly beneficial for dry, sensitive, and acne-prone skin.
Formulated as a Bio-Active skin cleanser for both daily use as well as a component of pre- & post- care therapy for a variety of skin applications and treatments.
Super charged with Tamanu oil, Chlorophyll and Nano-free silver, which all have been shown to inhibit bacteria on the skin while helping reduce redness associated with rosacea and acne-prone skin.  Comforts, soothes and hydrates with aloe vera and kanuba tea tree oil, while protecting the skin from bacteria and environmental damage, leaving it feeling luxuriously soft, clean and supple. Vegan, fragrance free and SLS free.

Let Mother Nature show you the way to healthy, beautiful skin.

Uniquely formulated by Membrane Post Care Products to support the needs of skin, especially before and following a tattoo, micropigmentation and/or skin rejuvenation treatment.   If using an anti-aging skin care regimen, MicroPh7 is the ideal cleanser for all skin types.  Our products are cruelty-free and synthetic-free with all ingredients sustainably sourced.  We never use SLS, sulphates, parabens, synthetic fragrances, petroleum, or other problematic ingredients.

For sensitive skin, always do a patch test first and/or purchase a mini to sample.

Whether using as part of a daily skin cleansing routine or for pre- and post- tattoo, micropigmentation and/or skin rejuvenation treatments, use twice daily, morning and night, or as directed by a professional.  May be used as a cleanser following an ablative or surgical treatment; however, always consult your technician  or physician first. Discontinue use at any sign of irritation.

DIRECTIONS:

Daily Use: For All Skin Types.  This creamy Bio Active Cleanser is fantastic to use daily. Wash 2x a day, morning and night, or as advised by a professional.

Clinical Use: Pre- & post-treatment. An ideal cleanser for every client undergoing advanced facials, chemical peels,  IPL (photo facials), microneedling/microchanneling, plasma, microdermabrasion, laser, and/or pixel/fraxel treatments. 

Tattoo Artist's Use: The perfect pre- & post-tattoo skin cleanser. Cleanse area prior to procedure and prescribe as a post-care cleanser to support  traumatized skin. Nano-free silver has outstanding bacteria inhibiting properties and chlorophyll provides oxygen to the tissue and also has been shown to inhibit bacteria.

Some Key Ingredients - 
Chamomile
Chamomile has been used since antiquity to treat wounds and urge healing, thanks to its anti-inflammatory and antimicrobial properties. A small yet more recent study found that chamomile significantly promoted wound healing.
Calendula
Calendula is the perfect topical application to put on open cuts. No germs can thrive in the presence of Calendula. It can draw out deeply embedded dirt. Calendula cream is wonderful for minor cuts, scrapes and falls.
Witch hazel
Witch hazel is rich in tannins, a natural plant compound with powerful antioxidant properties that can help protect your skin against damage when applied topically. Witch hazel is as a natural disinfectant for cuts and scrapes. Witch hazel has been evaluated for uses including analgesic, antiseptic, antioxidant, and antitumor activity
---