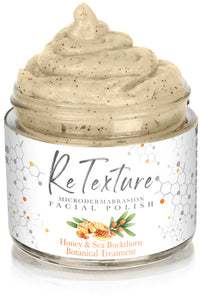 Membrane Plant Cell
ReTexture Honey & Sea Buckthorn
Regular price
$59.00
$0.00
Unit price
per
Honey is naturally soothing and has healing properties (it was traditionally used on wounds to aid healing). It also nourishes damaged skin to fade scars, especially acne scars. It works as a clarifying agent because it naturally opens up pores, making them easier to unclog.  Sea Buckthorn oil is just as renowned for its anti-aging benefits as it is for its skin healing benefits. Sea buckthorn repairs oxidative damage and has wonderful anti-aging properties. It hydrates the skin and promotes the formation of collagen, a structural protein essential for youthful skin. The berries from the Sea Buckthorn plant actually contain up to 12 times the amount of Vitamin C than Oranges. Thanks to all those vitamins and minerals, Sea Buckthorn can promote the overall health of the skin by boosting elasticity, hydration and inflammation, as well as fighting acne-causing bacteria.This fine-textured, crystal infused beauty blend buffs away dullness and smoothes skin.  The appearance of fine lines and rough texture is diminished, leaving soft, bright and nourished skin.  Helpful for reducing the appearance of mild acne scars and blemishes.

This formulation is designed to remove dead skin cells, increase cellular turnover, and improve microcirculation and skin texture, while promoting an evenly toned complexion.  This is achieved with naturally sourced ingredients proven to yield rejuvenated looking skin without the use of strong acids or retinoids.
 This product is bursting with antioxidants, helping fight against free radicals and preventing wrinkles. It is ideal for use before applying any sort of skin treatment, serum, or moisturizer.  Use before applying any kind of self tanner to the face for optimal beautiful results!
Makeup aficionados swear by ReTexture by Membrane as it smoothes the skin without leaving it feeling dehydrated or uncomfortable afterward. This two-in-one product exfoliates in a gentle but very effective way while nourishing the skin with its high-profile botanical ingredients. 
Directions: Apply a dime sized amount to dry clean skin and rub in a circular motion all over the face for 1-3 minutes. Let remain on skin for 2-5 minutes, allowing botanical extracts to penetrate, nourish, hydrate and soften skin. Add a small amount of water and repeat the exfoliation rub for 1 min.  Follow with a thorough warm water rinse to completely remove product.
---