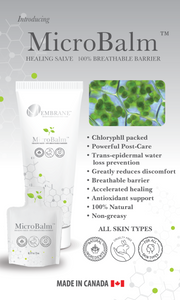 Membrane Plant Cell
Microbalm
Regular price
$27.00
$0.00
Unit price
per
MicroBalm
BEFORE AND AFTER PROCEDURES - Microbalm is used for every stage of tattoos, permanent make-up (PMU) and scalp micropigmentation (SMP).  By preparing the skin to be well hydrated, soft, supple leaving it the perfect workable canvas. MicroBalm also has world wide reports on many skin irregularities.
 MicroBalm is a micropigmentation post-care salve that serves as an important tool for improving the outcome of permanent makeup procedures, body tattoos and scalp micropigmentation.  As a 100% natural formulation, MicroBalm supports the delicate healing process and maintains the skin's existing nutrients while adding the healing properties of selected herbs, oils, and other ingredients. Combined, these elements are amazing for wound care and provide a clean and stabilizing breathable barrier. MicroBalm is basically food for the skin – its vibrant green colour reflects the freshness of its ingredients, particularly the energy-packed chlorophyll.
As a post-care healing ointment, it has been infused with hand-selected, fresh, natural and organic ingredients, which aid in calming inflammation and soothing the skin. MicroBalm provides antioxidants, antibacterial properties, hydration, and moisturizes the skin as it heals, ensuring that all recovery needs are met with a single product. We have uniquely crafted the salve to not only be highly effective at healing tissue and reducing the risk of infection, but to also have a pleasing scent, to holistically approach the healing process using the gifts of Mother Nature's garden.
PRE-PROCEDURE DIRECTIONS: Apply a thin layer to scalp or body area prior to procedure, keeping skin soft and workable to aid in pigment depositing. 
POST-PROCEDURE DIRECTIONS:  Apply a thin layer of MicroBalm to the brow (PMU), tattooed body area, or scalp (SMP), (6 hours) post-procedure.  This 6 hour window allows the wound time to primarily close with no interference of any foreign molecules and doesn't hinder its natural process of repair. This allows the tissue to breathe and close as well as helping lock in pigment.
 MicroBalm significantly aids in soothing and healing the skin by reducing itching and maintaining moisture, feeding the skin nourishment without clogging pores or leeching colour. For oilier skin types (face only) it should be used 6 hours post procedure for only 24 hours and then followed with application of MicroTonic or MicroGel for the remainder of the healing process, body art can continue as long as needed, while for drier skin types (face) a small amount (roughly the size of a grain of rice) should be applied two to three times daily for the first 7-14 days of recovery. MicroBalm is free from lanolin, petroleum, and synthetic ingredients, scented only with essential oils of lavender, chamomile, lemon and orange. Essential oils have been used throughout history in herbal medicine to prevent infection and promote healing, and these oils and other ingredients have been carefully selected for their protective and supportive qualities. All ingredients are specially selected for their contribution and the product itself is hand-crafted in Canada to the highest standards
As with any new product, it is good practice to 'spot-test' before using on a fresh tattoo, to wash hands thoroughly before each use, and not to share salves. Use a cotton swab to apply.  Keep lid closed tightly when not in use. 
Ingredients - 
Hemp oil
Hemp oil is perfect for most skin types as it can moisturize without clogging your pores. It can even help to balance out oily skin, hydrating it and regulating the skin's oil production. Anti-inflammatory, high in amino acids which is known to aid in healing many skin irregularities.
Wounds. Propolis
Wounds. Propolis has a special compound called pinocembrin, a flavonoid that acts as an antifungal. These anti-inflammatory and antimicrobial properties make propolis helpful in wound healing. One study found that propolis can help people who have had traumatic burns heal faster by speeding up new healthy cell growth.
Calendula
Calendula oil has antifungal, anti-inflammatory, and antibacterial properties that might make it useful in healing wounds, soothing eczema, and relieving diaper rash. It's also used as an antiseptic.
The Arnica
The Arnica plant is known for its healing properties. It can be applied to the skin in order to heal bruises more quickly, soothe inflammation, ease muscle pain, and even alleviate stiffness caused by arthritis or other joint injuries.
Beeswax carries antivira
Beeswax carries antiviral, anti-inflammatory, and antibacterial properties that are essential in fighting chapped skin and bacterial infections that tend to affect us most in the dry, winter months. It forms a protective wall by sealing in moisture in our skin without smothering and clogging up the pores.
---